Advanced Reporting NOW AVAILABLE!
October 25th, 2018
Thanks to our partnership with New Vue Solutions, your mystery shop reporting dashboard just got better. Now, you can gain access to better visuals and comparisons that can help you pinpoint your areas of strength and your highest priorities that will enable you to improve your business and guest experience.
What's new?  In your new online reporting dashboard, you can now view your mystery shop data with compelling visuals and enjoy the following features:
A rolling overview that quickly shows the total number of shops per month plotted with each month's average score
A breakdown of average scores for each section in the report, intuitively presented as higher or lower than the total report's average score – this enables you to quickly identify which areas of your business are boosting your score and which areas are responsible for declines
Average score by location (available for clients with multiple locations), presented over several months
Average score by section in the report, presented over several months
Average score by question in the report, allowing you to dive deeper and pinpoint not only sections that may be negatively affecting your score, but the exact question that identifies immediate need for improvement
Narrative presentation, that allows you to view each section's narratives across multiple shops at once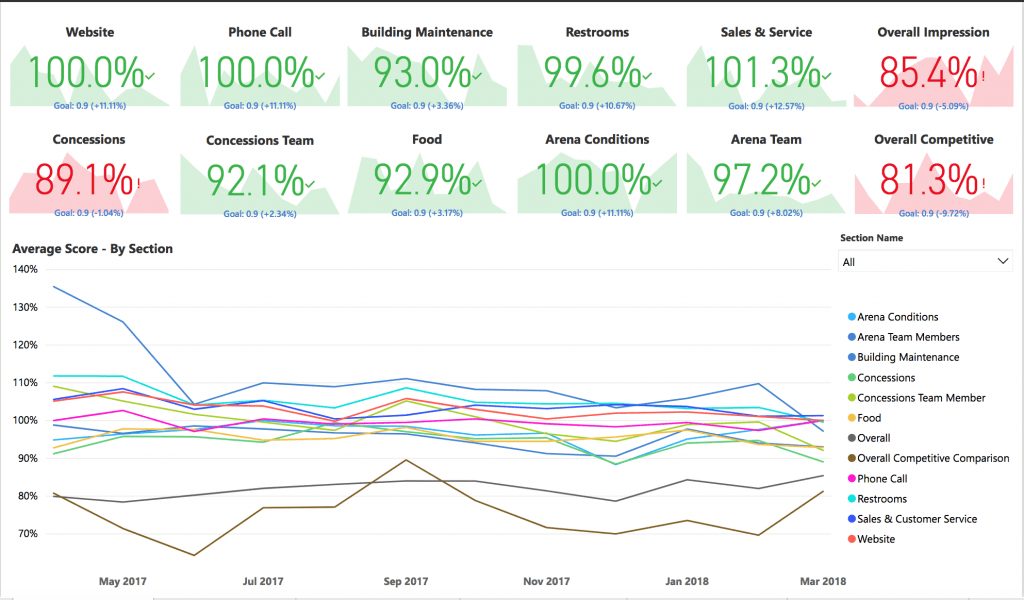 These improvements are provided as part of our commitment to continually improve our guest experience solutions.  Your new reporting dashboard will help you manage your mystery shop program even more successfully, and assist you in locating the areas of your business that need the most attention.
We are pleased to offer this improved reporting platform as an optional enhancement for ONLY $10 per shop.  This fee will be built into your current mystery shop rate and will be billed normally through your regular invoices.
"The addition of New Vue's dashboard display has taken our reports to the next level. I recently shared the dashboard with my staff during our company meeting and it was universally agreed that it helped us understand many more levels that we previously had not been able to see."
–Melissa Soverns, Sawgrass Recreation Park
To gain access to your new reporting platform, contact Joshua Liebman at josh@amusementadvantage.com.
For further customization, or to learn how New Vue Solutions can help you understand your attraction's metrics even further, contact Paul Gibbons at paul@new-vue.com.