Historical Reporting
Want more data? We can do that!
Historical Reporting is available on our website via secure client login. You can easily create, view and print custom reports for any date range to compare/summarize results by question, section or facility. You can also export reports to Power Point or PDF for easy reference. 
Thanks to our partnership with New Vue Solutions, your mystery shop reporting dashboard gives you access to dynamic visuals and comparisons that can help you pinpoint your areas of strength and your highest priorities that will enable you to improve your business and guest experience.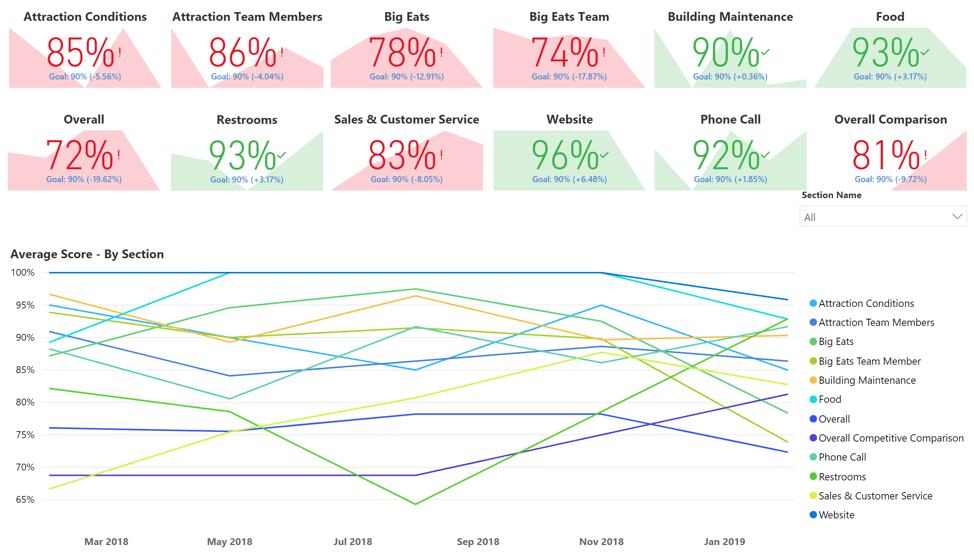 In your online reporting dashboard, you can view your mystery shop data with compelling visuals and enjoy the following features:
A rolling overview that quickly shows the total number of shops per month plotted with each month's average score
A breakdown of average scores for each section in the report, intuitively presented as higher or lower than the total report's average score – this enables you to quickly identify which areas of your business are boosting your score and which areas are responsible for declines
Average score by location (available for clients with multiple locations), presented over several months
Average score by section in the report, presented over several months
Average score by question in the report, allowing you to dive deeper and pinpoint not only sections that may be negatively affecting your score, but the exact question that identifies immediate need for improvement
Narrative presentation, that allows you to view each section's narratives across multiple shops at once
Highlights:
Real-time custom report creation
Hyperlink drill-down navigation
Easy on-screen viewing and printing
Isolate problems and developmental areas
Analyze trends and recurring issues
For further customization, or to learn how New Vue Solutions can help you understand your attraction's metrics even further, contact Paul Gibbons at paul@new-vue.com.